One of the most memorable experience during our journey was our fortunate and impeccable timing visit to Switzerland and Austria - right smack during the football frenzy, the Euro 08.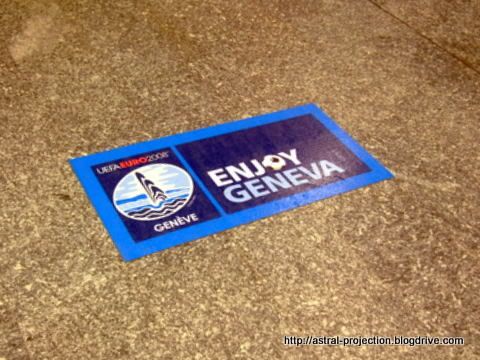 Okok, I know it is perhaps long overdue to be rambling about the Euro 08 when we are stepping into year 2010 but let's just imagine we just took a time machine back to good old year 2008 ok?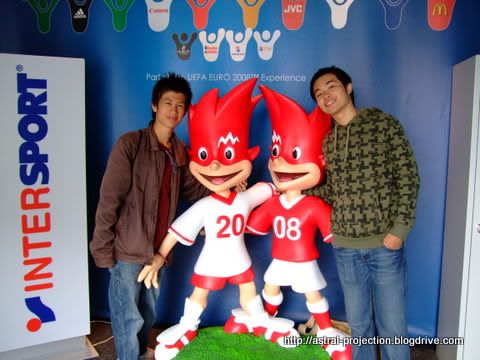 The twin mascots of Euro 2008
For a football fan, you will know that an unforgettable time is in store for you when you see an otherwise calm and peaceful city being transformed into a town decorated with everything football and houses hordes of fans in their national colours.

Watching live football in front of the Rathaus
Seriously, you can't help but feel the amazing football atmosphere in every corner. Football and everything Euro were incorporated into every single object you see, from our favourite McD packaging, decorations on table to the street lamps.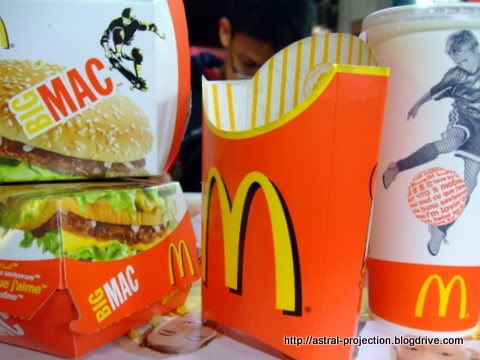 Our staple meal. Yum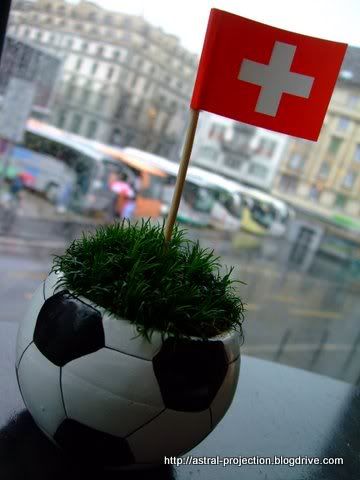 Football deco on the table

Countdown to the opening ceremony
There is even a freaking football at the top of the Jet d'Eau, the iconic Geneva fountain!

The Jet d'Eau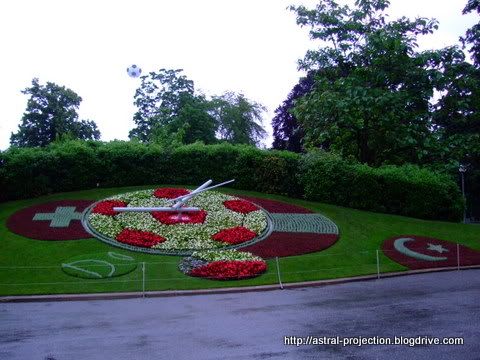 Flower Clock decorated according to the match between Swiss and Turkey
Everything just seems so happening.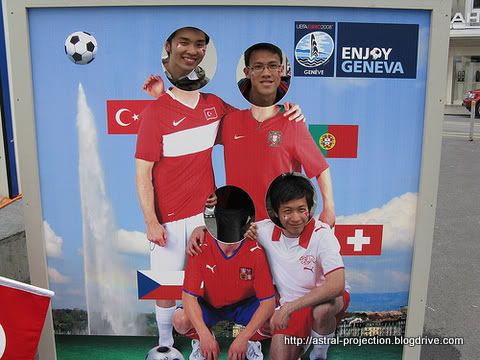 Fanzones were erected throughout the host cities to allow the not-so-well-to-do-football-fans-who-can't-afford-a-match-ticket a place to gather, mingle, cheer and watch your favourite team battle it out on a huge ass screen.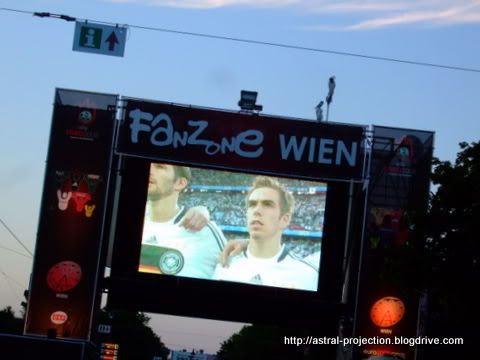 Hello there, Lahm!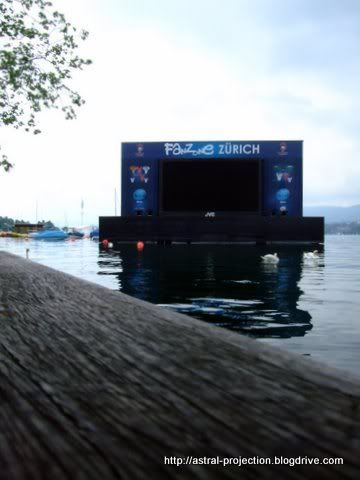 Screen in the middle of the lake
Concerts, parties and events were all held in full force to cash in on the most happening sporting event in Europe every 4 years.
Even though we have no idea who those singers belting out in alien languages are on the stage, we still managed to soak in every bit of the atmosphere available and enjoyed ourselves tremendously along with the concertgoers and fans.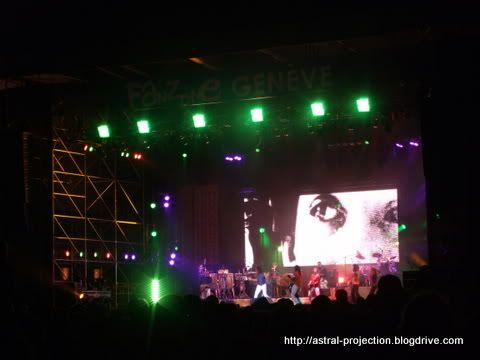 Speaking of fans, football fans have got to be the most passionate people. The would sing, cheer and scream in unison to protect the pride of their national colours.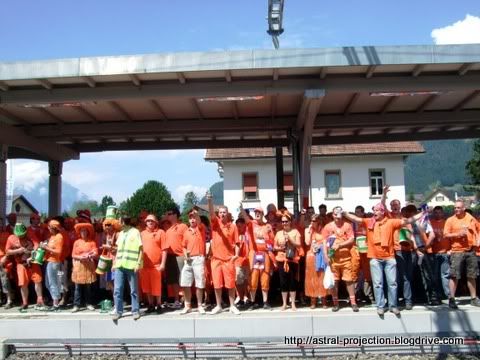 The singing Dutch fans!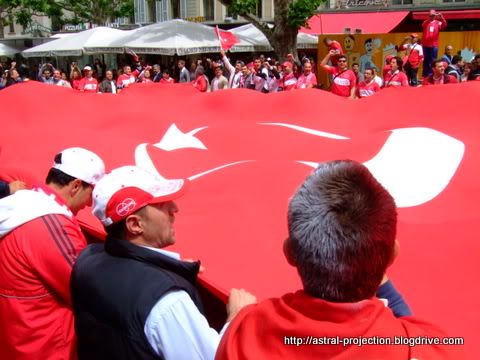 Huge flag waving Turkish fans
Even to the extent of a football riot as I'd written here before. Which was a little too much for my liking. Especially when a missile missed my head by just a couple of inches.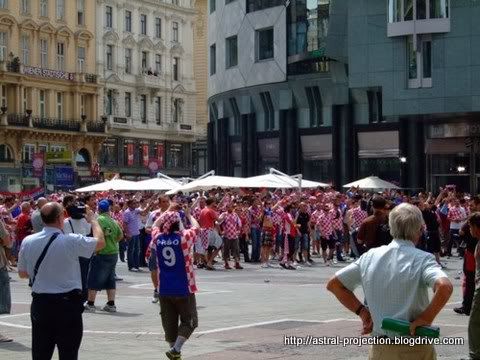 The Croats football riot
If only Malaysian football fans have the same level of passion (without the riot and chair burning of course), we might actually be better. Well, at least we won in the SEA games this time around.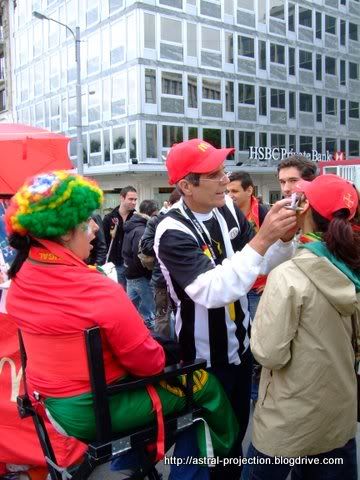 Face painting sponsored by McD's

Chummy with Ronald himself!
Oh, and I absolutely loved those roadshows that provide us free face painting. With a Swiss national flag on my face while watching the Swiss national team on the screen, I'd never had a welcome as warm as this from the fans. Absolutely brilliant.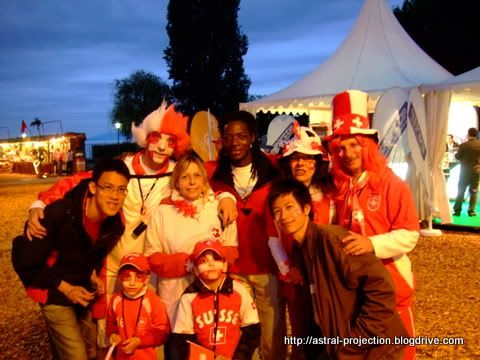 Amazing Swiss fans
Was so reluctant to wash off the face painting after that.
Well, it's time to step off my time machine and just reminisce the marvellous experience that was the Euro 2008. Looking forward to the World Cup in South Africa this time. Unfortunately, absolutely zero chance of me being there.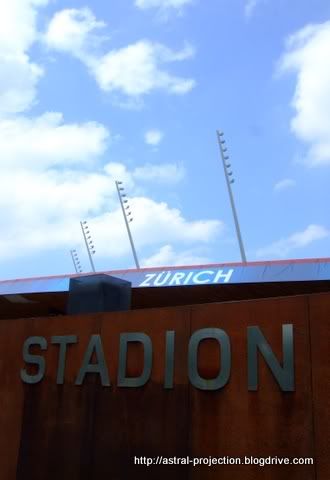 So fingers crossed I would strike a lottery and be on my way to Rio for the 2014 World Cup. That would just be sweet.