I believe the Vatican City needs no introduction whatsoever.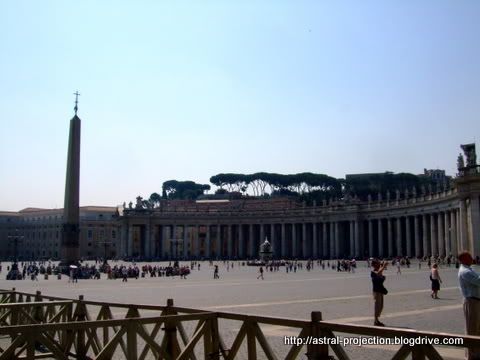 Centre of Roman Catholicism, the place where the Pope rules and resides and the smallest country in terms of size and population (yes, the Vatican is an independent country within a city), the Vatican City is rich in history and definitely on the must-see list when you are in Rome regardless whether you're a Catholic or not.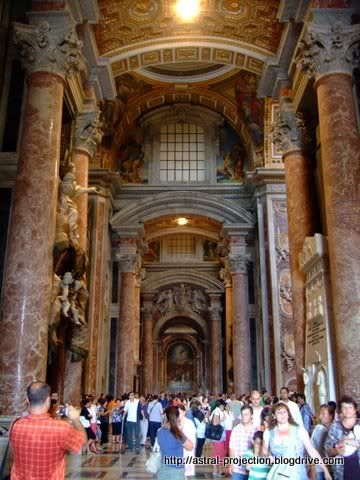 Surrounded by high fortress walls, the Vatican oozes superiority and is definitely the mother of all cathedrals. I have visited countless churches/cathedrals during my time in Europe and none of them is as huge and impressive as the St. Peter's Basilica.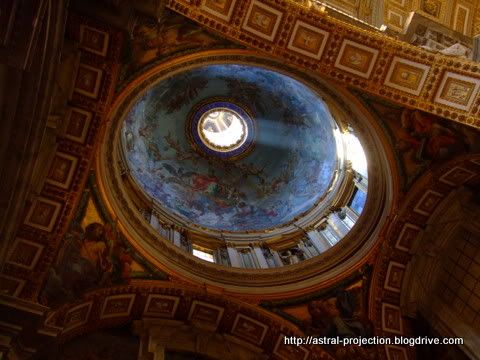 There was a ceremony involving the Pope and cardinals going on inside the Basilica during our time of visit (no idea what it was, can't understand Italian or Latin) and it was almost impossible to manuever ourselves among the sea of tourists and worshippers alike in the non-restricted area.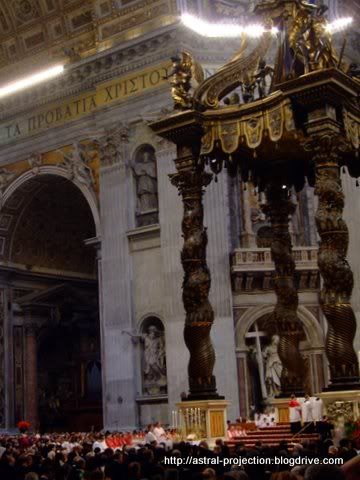 Ceremony within the Basilica
A shame really as it was really difficult to marvel at the amazing sculptures, artworks and architecture in the enormous church if we are bumping shoulders with other tourists every millisecond. Well, at least the St. Peters Square is huge enough to accomodate our photo taking sessions.

St. Peter's Square
Just like most places of worships, the visitors were required to dressed decently especially the ladies or you will be refrained entry into the Vatican City. So, ditch the idea of wearing miniskirts or sleeveless attire under the unforgiving summer sun, ladies.
Speaking of attire, the Swiss Guards - bodyguards of the Pope have one of the most ridiculous costumes I'd ever seen. I can't believe they are there to protect the security and safety of the Pope with such colourful and jester-like attire.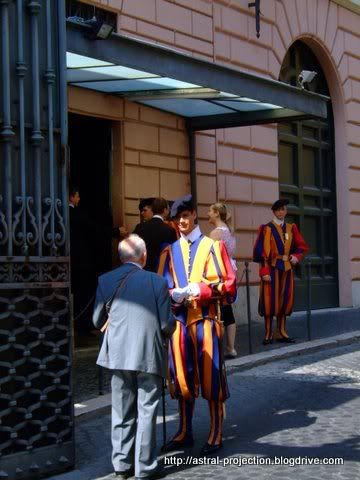 Can't....take.....them.....seriously....
If any of them has a great sense of humour, they will have no problem filling in as the Pope's personal jester/comedian.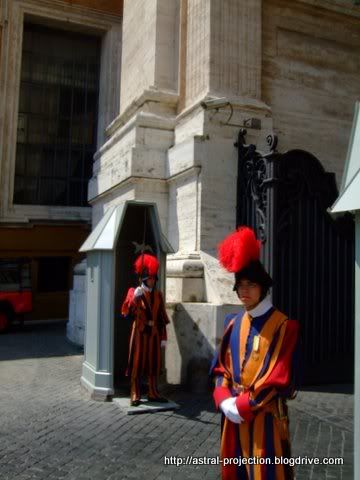 The other interesting thing about the Vatican is they have their own, independent.....everything. From their own Euro notes, to their personal postal system. I was so tempted to post a postcard home from the Vatican itself just to have their postal chop on my postcard.
Regretfully, we never got to visit the famed Vatican Museum and Sistine Chapel due to unexpected closure of the buildings. Perhaps due to the ceremony mentioned previously. What a disappointment indeed.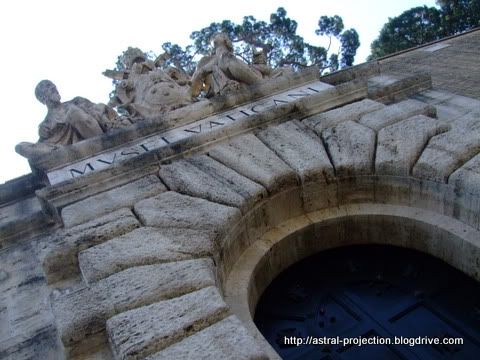 Closed Doors
Well, if you look it in a positive way, at least our vacation in this country cost absolutely nothing.
Posted at 09:37 pm by Astral86