When you associate food with Germans, you could not go wrong with beer, pork and especially sausages.
I am sure I have never eaten so many sausages in my life ever.
While travelling through Munich and Berlin, it's common to see Bratwurst (pork, beef or veal sausages) being sold everywhere from convenience stalls, food fairs,..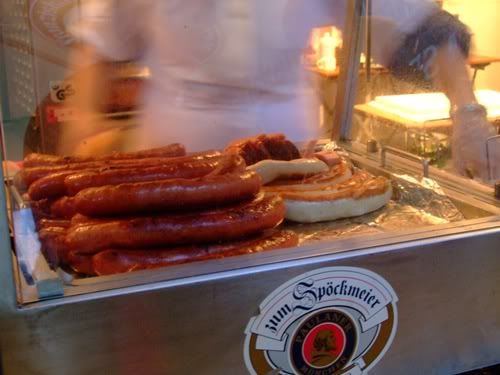 ...to the portable Bratwurst-man.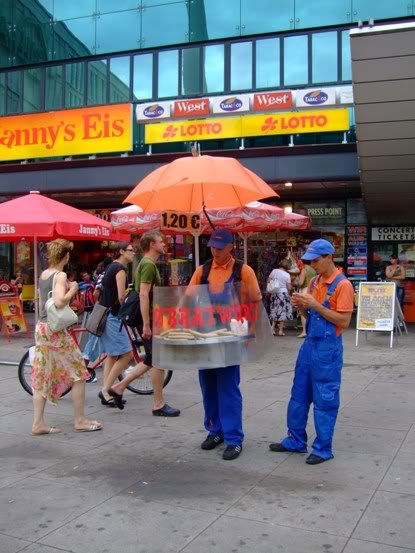 There is no way you would get hungry with these affordable snacks (~1.20 euro) around. Huge and tastier than my usual McD burgers. Definitely a far cry from the measly supermarket processed sausages we have here too.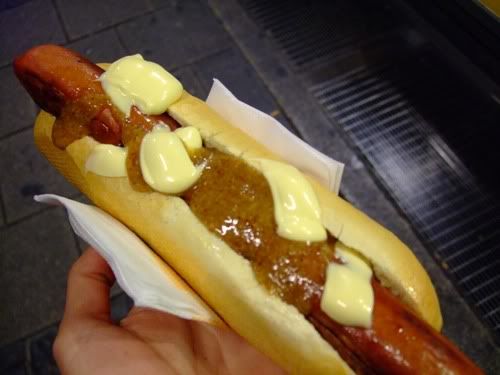 Bratwurst for supper. Thumbs up.
In Berlin, there exist a variation of Bratwurst that is a staple and hugely popular among the locals called the Currywurst. Pretty self explainatory - the currywurst is basically bratwurst topped with curry powder and ketchup but this baby is absolutely delicious.
I'd been to 3 different places to basically eat the similar dish in one day, and not one bit sick of it. The currywurst is normally eaten with a piece of bread and one plate is indeed insufficient.

Konnopke Imbiss, the popular Currywurst stall in Berlin.
The recommended currywurst stalls in Berlin where the crowd would be is either Konnopke Imbiss or Curry 36 where steaming hot currywurst are served every minute of the day. Yes, I have tried both and even one from a random stall.

Free sweets on the table for Curry 36.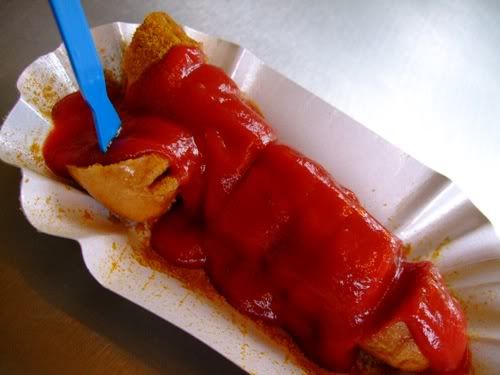 Ketchup overload.
But there was one sausage that caught me by surprise in Munich. A Bavarian white sausage called the Weisswurst.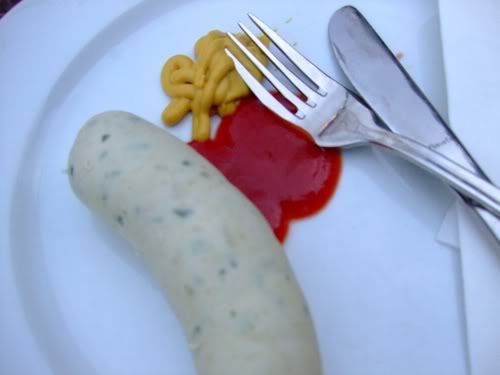 The Weisswurst.
Don't be fooled by its small and harmless stature. I thought this was just another bratwurst made from a different kinda meat and attempted to gorge on it. Unknowingly, I chewed on the sausage and wondered for a moment the elasticity of this harmless sausage. Only did I realise that the Weisswurst comes with a layer of inedible skin that should be removed before consuming.
Seeing that I bought this in a food fair with no place to sit, the aftermath of consuming the Weisswurst was not a pretty sight to behold.
Pork dishes are pretty popular in Germany so needless to say while we were in Munich for dinner, the dish to have had to be pork.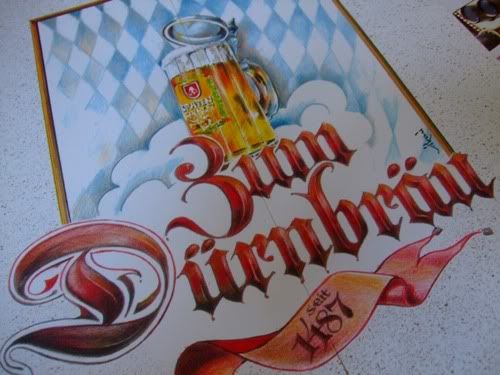 Zum Durnbrau, since 1487. That's old!
While dining at a recommended restaurant named Zum Durnbrau, I skimmed through the menu and immediately knew what I wanted to order - The Schweinshaxe. Even the name sounds cool.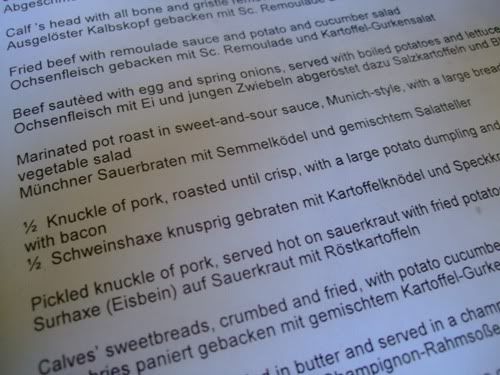 Huge roasted to perfection pork knuckle, sinfully crunchy skin, interesting side dishes (the potato dumpling was chewy) equals to a winner dish for a carnivour like me. Absoluately one of the best meaty and hearty meal I have had in Europe. Well, guess you would expect this from a Bakuteh fan.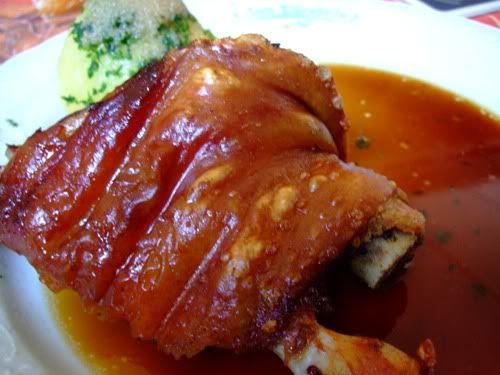 How would you not salivate?
However, not all is dandy regarding the local food in Germany. That is one snack that I would not thought I would dislike, until I had tasted it. The German pretzel.

What are salts doing on my pretzel?
Hard, thick and coated with salt. Big huge chunks of salt. Pretzels with salt just taste horrible. Pretzels are suppose to be sweet, as far as I am concerned. I never knew the original European pretzels were salty.
Thank god for the commercialisation of pretzels into the sweet snacks they are today. If not, I swear I wouldn't touch an original salted pretzel ever.
Oh, I can't manage to finish the pretzel above. Says it all.