So we have heard, the national sport in Belgium is definitely eating.
Now, it would be a sin not to indulge in Brussels then would it?
Unfortunately, the downside of being a student on a budget is that we do not have the privilege to indulge at will while being surrounded by arrays of wonderful food. Just like the world famous Belgian chocolate, there is no way we could afford to spend 30 euroes on half a kilo of high quality Marcolini chocolates. Heck, we can't even afford Leonidas.
So, the next best option for budget travellers like us is to head towards the supermarket and grab the affordable but good Belgian chocolates such as Jacques or Cote d' Or.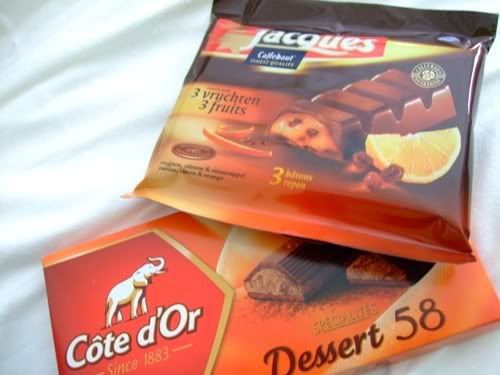 Affordable good chocolates
Unless you have an expensive and exquisite tongue, the chocolates would tasted pretty good as well. Well, I was pretty satisfied with the Belgian chocolates. On par with Swiss chocolates but I'm not good enough to know which is better.
Despite being on a student budget, we managed to spent the most on food alone in Brussels compared to other locations around Europe. That shows how hard it is to resist the food temptation.
Brussels waffles is another famous local specialty. Brussels waffles are rectangular in shape (as oppose to round waffles that we are used to), and sprinkled with confectioner's sugar and most of the time accompanied with chocolate sauce, strawberries, ice cream or whipped cream. Salivating yet?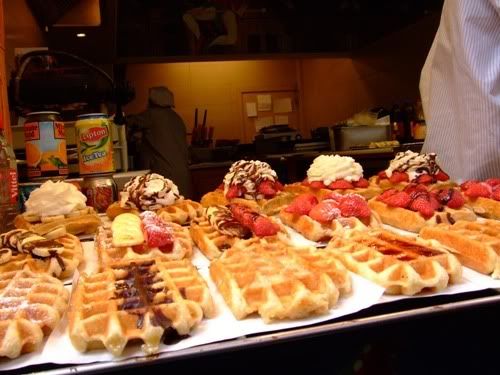 We were minding our own business strolling down the streets when we saw a huge bunch of kids lining up in front of a shop....for Brussels waffles. Judging by the huge crowd, the smiling kids, the "since 1867" (wow, thats long) signboard and the no waffles sign on the adjacent shoplot, we knew the waffles must be good.

Le Funambule, since 1867

No waffles sign on the adjacent shop

Some kids can't read
And so it was. Our sweet tooth was immensely happy with the warm and savoury waffles that day.
Another gem of a shop we found in Brussels that wasn't on any guide was a fish bar called Mer du Nord. The patrons were seated around the bar and ordered their favourite seafood dish prepared and cooked in front of them. As fresh as it gets.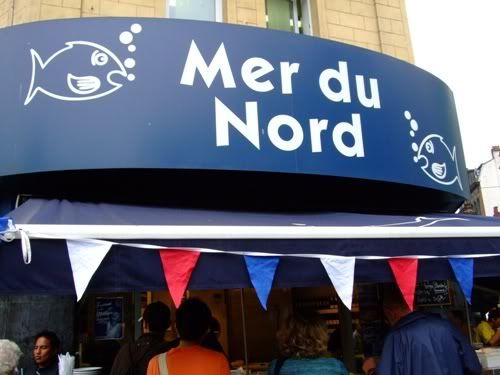 Since we have no idea what those gibberish Dutch words were on the menu, we asked the waiter for some recommendations. And this is how I found the first raw dish that I enjoyed.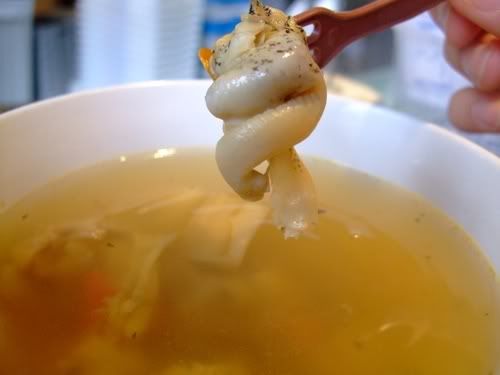 Escargot soup
Apart from the escargot soup (Soup was delicious but escargot tasted like squid which I guess is normal) that was recommended, the waiter told us that it was the festival of the Maatjes. Or known as cured herrings.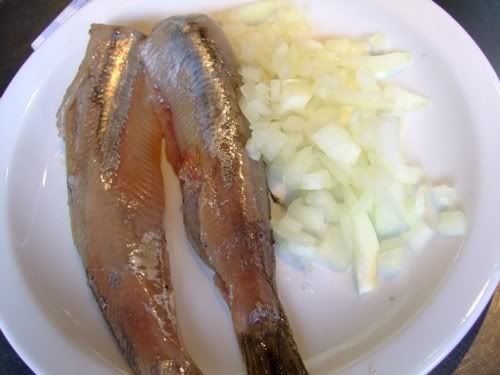 Maatjes. Raw enough?
Served with pickled onions, the raw cured herrings doesn't look at all appetizing. I was hesistant to put those fish (with bones, mind you) into my mouth like how the little girl did in the poster below. Not a fan of raw fish you see, not even raw salmon commonly found on sushis.
And when I finally muster the courage to consume the fish, I was massively surprise that the herrings tasted so good. If not for my conservation of euros, I would have ordered another plate.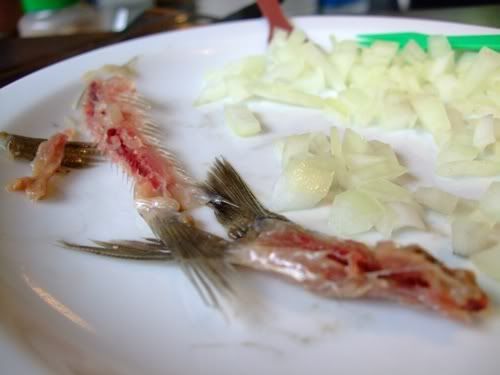 Poor old herrings
The only time we indulged in Brussels was for our dinner at Chez Leon on the Rue des Bouchers, a place filled with restaurants and of course tourist traps.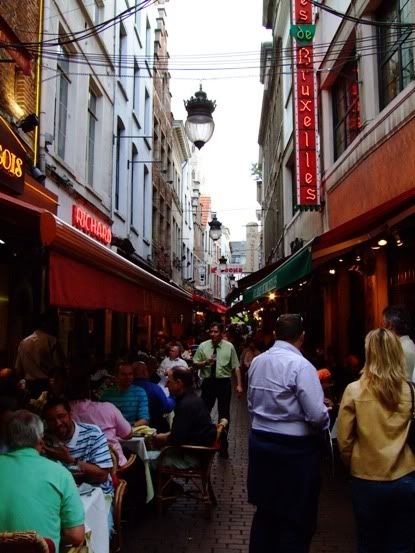 Rue des Bochers where every single waiter will try to pull you in their restaurant
However, the mussels in Chez Leon were recommended by the guidebook so there was no harm we suppose. Its good to pamper ourselves once in a while right?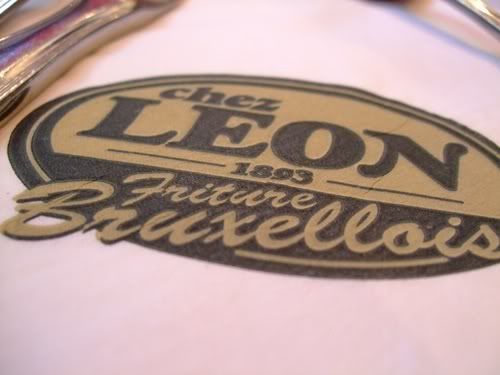 For the record, this had to be the time where I have seen, ate and dispose of the most mussels in my life ever. We ordered 4 huge plates of mussels in different varieties. Cheese, butter, garlic, tomato sauce, you name it, we probably tasted it.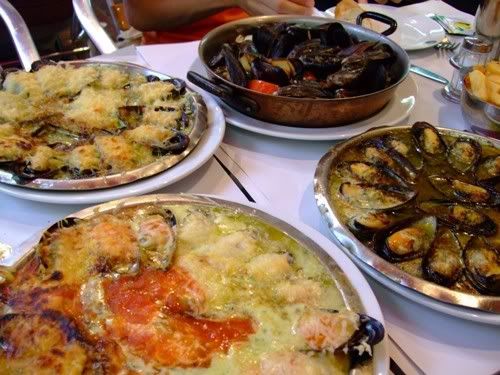 Mussels galore

Close up
The mussels were huge, extremely succulent and filled with their respective flavours. Despite forking out a huge amount on the bill, we were very satisfied with our mussels bonanza meal. Needless to say, we did not have mussels for a long long time.

Succulent enough?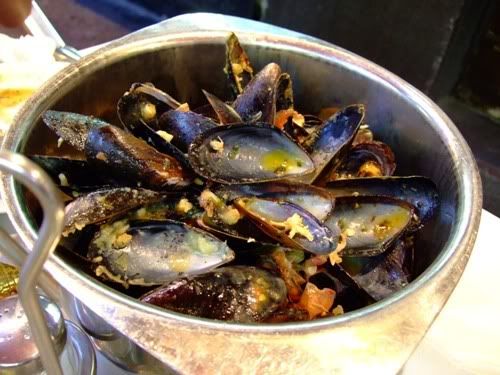 My personal pot of disposed mussels shells
After a hearty meal, it would be usual to wash it down with some good beer. Despite not being a fan of beer at all, we just have to check out a place called Delirium Bar famous for its huge list of Belgian and international beers. No kidding, the varieties of beers is like a phonebook standing at 2650 kinds of different beers the last time I read about them. Talking about spoilt for choice.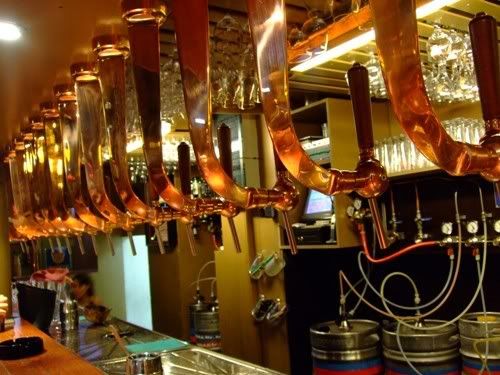 A fraction of the beers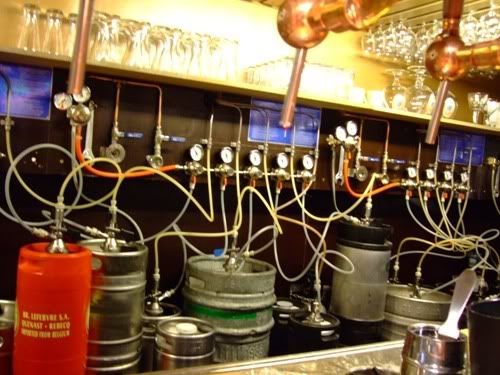 Beer storage tanks
We were recommended some Belgian beers which names I'd never heard before by the bartender according to our taste. Since I was the last person on earth that knows how to savour beer, I did not finish mine but my mates said that their beers were pretty good.
Not surprising though since some people said this is one of the finest bar around. Despite its popularity, the place is pretty hard to find as it is located in a small alley with pretty small signs. Great place for beer lovers I suppose.
There are many other Belgium favourites in Brussels that we had no chance to try such as the fries (in mayo), the stoemp etc. But if you want to indulge in food, Brussels is one of the best place to go to. Never short of options I would say.
Now you know why their national sport is eating.