One thing great about dining in most 'standard' places in Europe is that you know what you are paying for. No service tax, no government tax and the hassle of recalculating your budget - everything is inclusive.
Unless the service is top notch, it is not compulsary to tip either especially for frugal students like us.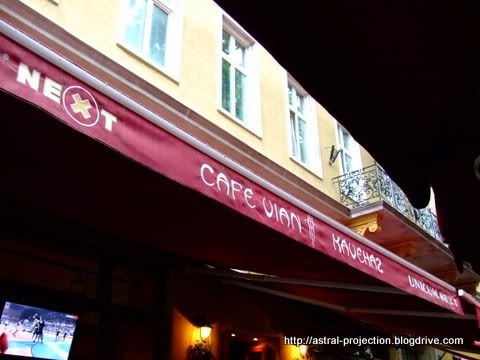 So, there were we sitting in the wonderful Cafe Vian in Budapest sipping the local goulash and savouring the Hungarian styled duck meat with paprika counting our lucky stars that food in Budapest ain't as pricey as other parts of Europes.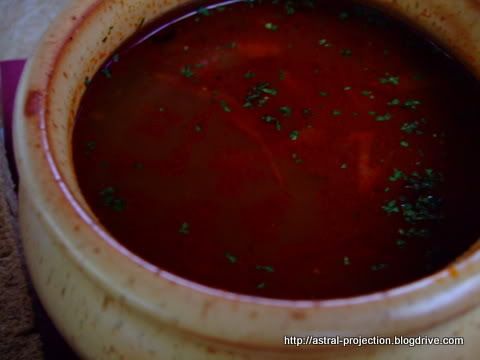 Local speciaty - Goulash
The waiters were nice too and spoke decent English!
After a hearty meal, we asked for the bill. The waiter brought us the bill with such a presentable smile. Hmm, pretty reasonable price considering the nice food and cafe we were in so we counted our Forints (Hungarian currency) and paid the nice man.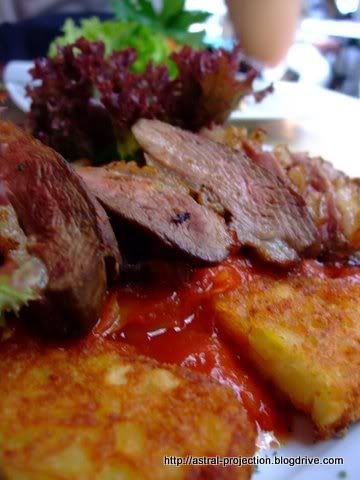 Pretty tasty duck meat and potatoes. Can't remember the name though
The waiter thanked us and returned back to the restaurant while we continued sipping our sky juice (which happened to be free!). Then, the waiter reappeared with the menu and a not-so-presentable smile. Must be a demanding customer next table ruining the waiter's day we thought.
Shockingly, the waiter returned to our table. To refill our free sky juice perhaps? He looked, mumbled something and smiled at us. We looked back at him puzzled. He flipped open the menu and pointed at a not-so-fine print in the bottom corner of the menu.
Something along the lines of:
"Compulsary to tip at least 10% of the total bill price." Wow, didn't know we were in the States! Needless to say we paid only the exact amount previously.
Sheepishly, we digged our pockets for some extra Forint coins (exactly 10 percent of course, lol), apologized and went off like the wind.
Piece of advice - Always read the fine and not-so-fine prints on the menu before making a fool out of yourselves. Damn those kiamsiap asians, the waiter must have mumbled.